America's Barns are Worth Saving

The Barn Believers Community Project Fund was created (2017) because heritage barns -- timber-frame, log and stone - are being destroyed. Valuable documents and photos which record the stories of these architectural treasures are being discarded. The time to save them is NOW!.
Barn Believers:
awards grants to 501c3 nonprofits.
shares accurate information for decision-making.
is not an endowment or a membership organization.
does not recommend contractors, companies or products.
makes grants only within the state of Michigan.
See Grants/Application. (Downloadable PDF)
Examples of qualifying projects include convening decision-makers to design barn-friendly policies, preserving historic barn-related collections, evaluating and advising on the condition of a barn in preparation for relocating it for nonprofit use, and education. To discuss Contact Us.
Tax Credit for the Rehabilitation of Historic Michigan Barns
Senator Jeff Irwin (D) District 18, introduced on April 14, 2022, Senate Bill 1008 with co-sponsors Dayna Polehankie and Wayne Schmidt, to provide a tax credit for the rehabilitation of historic Michigan barns. Please give this Bill your full support! He can be reached at:
Sen. Jeff Irwin
Post Office Box 30036
Lansing, MI 48909
517-373-2406
senjirwin@senate.michigan.gov
http://legislature.mi.gov/doc.aspx?2022-SB-1008
"Saving Heritage Barns"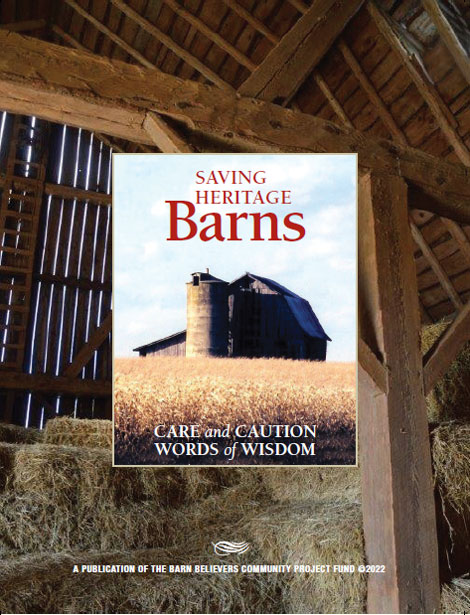 This booklet is available at no charge. See Saving Heritage Barns for the full text and how to request copies.
Barn Believers in Action
We are honored to share the work of photographers whose images are drawing the attention of thousands through the Facebook site, Michigan Old Barns. They are recording history, inspiring others, and stirring conversation. Our deepest thanks to these amazing artists who see with their hearts and capture with their cameras. Many offer their work for sale and can be reached through their own Facebook sites.

Don Armstrong
View examples of his work!

Dave Carlson
View examples of his work!

Gary Ennis
View examples of his work!

Julie Hamilton
Learn more about her work!

Lisa Heine
View examples of her work!

Michelle Jordan
View examples of her work!

Judy Kies
View examples of her work!

Colleen Fitzpatrick McMurray
View examples of her work!

Leandro Martins
View examples of his work!