Happiest of Holidays to
You and the Ones You Love
Barn Believers Community Project Fund hopes 2017 has been a good year for you and that 2018 has even better things in store.
As the year closes, we thank all who are helping us get off to a great start.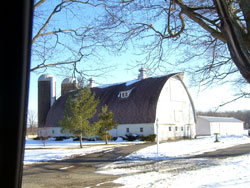 Your mailbox is inundated with requests for year-end donations. While we have chosen not to add to that volume, we welcome your gifts, all of which benefit saving barns.
The founders of Barn Believers are refining priorities, defining grantmaking parameters, and building a small, diverse board. We are not an "organization" that operates ongoing programs. We do not have an office or staff. We have the logistical, professional support of the Battle Creek Community Foundation.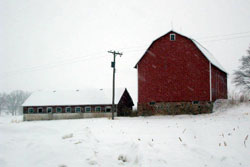 Michigan's existing barn preservation network is working to be the "go-to" barn organization and that's as it should be. We do not want to duplicate existing services such as providing advice on how, or who, to hire to repair a barn. There is plenty more to be done to save traditional barns and a role for all of us, working together to strive for efficiency and excellence in doing what we are best at doing.
Awareness is building of the importance of our extraordinary timber-frame barns.
The tourism industry is beginning to include adaptive reuse barns and eye-catching Michigan barn vistas in its literature after years of focusing on lighthouses, waterfalls, and golf courses.
Barns are being adapted to new uses from business centers to apartments, microbreweries to wineries, dental clinics to vet clinics, and man caves to she sheds
Barn tours, barn quilt trails, and barns being used as part of agri-tourism and agri-tainment.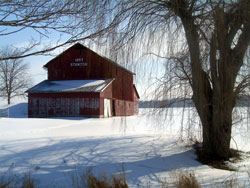 Critical areas remain where steps must quickly be taken if a difference is to be made and barns are to be saved. Barn Believers wants to hear from and talk with others about issues including:
Bringing members of the insurance industry together to adopt attitudes and craft policies that respect traditional farm structures.
Providing training for realtors who may not be familiar with traditional barns on how they can be incorporated into new uses when property is sold, or, at the very least, be saved through relocation.
Design training opportunities for career-seekers to become barn repair/adaptive reuse professionals.
We look forward to hearing from you. Happy holidays.
Visit the concert page to see what people are saying.